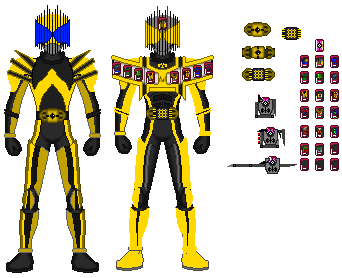 Niji Kadoya
Edit
Dyna and Dyna Complete: Nijiyo Kadoya
Nijiyo Kadoya is the Son of Tsukasa Kadoya (aka Kamen rider Decade). He met Tsukasa in Dyna's world, but in Dyna's world Niji freaks out because Tsukasa never new Nijiyo but in the end they find out Daiki Kaito (aka Kamen rider Diend) life in Dyna's world was bad he was Killed by his own son Tankyuu Kaito. Who is now Kamen rider JiEnd a purple version of Diend. Niji and Tsukasa Defeated Tankyuuu by using an ability only Dyna can use. If Dyna transforms into a kamen rider with a Final form rider card Decade can transform him into it. example lets say Dyna turns into Kamen rider Kiva and Decade use's his Final form rider can so Dyna transforms into KivatArrow.
GolDriver, a Golden version of the DecaDriver
ProtoType, Dyna's card holder
Dyna complete, a device that lets Dyna turn into Dyna complete
Kamen rider
Edit
Kamen rider Dyna
Kamen rider Zeta
Kamen rider JacKnight
Kamen rider 4X
Kamen rider MegaMoth
Kamen rider Duplicator
Kamen rider Jakuon
Kamen rider...
Attack rider
Edit
Attack rider Slash
Attack rider Blast
Attack rider Invisible
Attack rider Virus
Attack rider Dragon Ring
Attack rider Hide
Attack rider Clock Up
Attack rider Twin Vent
Attack rider Guard Vent
Attack rider Strike Vent
Attack rider Disc Animal
Attack rider...
Final Attack Rider
Edit
Final Attack Rider Dyna
Final Attack Rider Zeta
Final Attack Rider JacKnight
Final Attack Rider 4X
Final Attack Rider MegaMoth
Final Atack rider Duplicator
Final Attack rider Jakuon
Final Atatack rider...
Form Rider
Edit
Form rider 4X Hallow
Form rider...
Final Form rider
Edit
Final Form rider Zeta
Final Form rider JacKnight
Final Form rider 4X
Final Form rider MegaMoth
Final Form rider Dupliactor
Final Form rider Jakuon
Final Form rider...
Final Kamen rider
Edit
Final Kamen rider Dyna